Overview
Once enough of the same card has been collected, moves can be upgraded in order to make moves stronger, better and/ or faster.
Every move within the game can be upgraded.
Each move is limited to 10 upgrades.

In order to upgrade a move, you must select the move you wish to upgrade within the Dojo - toggling an "Info" and "Upgrade" button set.

Selecting "Info" displays more information on the selected move including the damage/ cast time/ cooldown statistics of the move within it's current upgrade perimeters.
Once purchased, users cannot refund nor remove move upgrades.
A move must be unlocked before it can be upgraded.
Obtaining Move Duplicates

How to Obtain Duplicates
There is currently only 1 way to gain moves.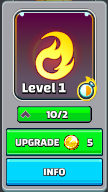 What Happens Once a Move is Fully Upgraded?